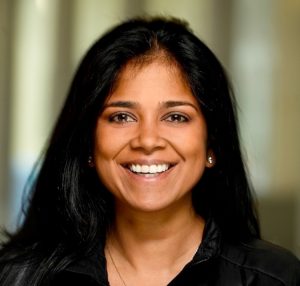 Suchi Saria, PhD
CEO & Founder, Bayesian Health and John C. Malone Assoc. Professor
Johns Hopkins University
---
You'll be glad you saw Suchi because...
She's a researcher and entrepreneur focused on how to bring AI to the bedside—ethically and effectively.

Haunted by thoughts that AI might have saved the life of her young nephew, if the technology had been out of development and in doctors' hands, she's determined to grow AI into practical, clinical tools.

She balances her zeal for AI with a wary respect for its risks: How transparent are AI algorithms? How do we ensure AI complements clinicians' skills, rather than compounding human bias?

Suchi's insightful mix of enthusiasm and caution will upgrade your intelligence about artificial intelligence.
---
Suchi Saria, PhD, is the Founder and CEO of Bayesian Health, the John C. Malone endowed chair and the Director of the Machine Learning, AI and Healthcare Lab at Johns Hopkins University. Her research has pioneered the development of next generation diagnostic and treatment planning tools that use statistical machine learning methods to individualize care. She has written several of the seminal papers in the field of ML and its use for improving patient care and has given over 250 invited keynotes and talks to organizations including the NAM, NAS, and NIH. Dr. Saria has served as an advisor to several Fortune 500 companies and her work has been funded by leading organizations including the NIH, FDA, NSF, DARPA and CDC.
Dr. Saria has been featured in Bloomberg News and PBS NOVA and she has won several awards for excellence in AI and care delivery, including IEEE's "AI's 10 to Watch", Sloan Fellow, MIT Tech Review's "35 Under 35", National Academy of Medicine's list of "Emerging Leaders in Health and Medicine", World Economic Forum's 100 Brilliant Minds Under 40, Rock Health's "Top 50 in Digital Health", Modern Healthcare's Top 25 Innovators, The Armstrong Award for Excellence in Quality and Safety and Society of Critical Care Medicine's Annual Scientific Award.