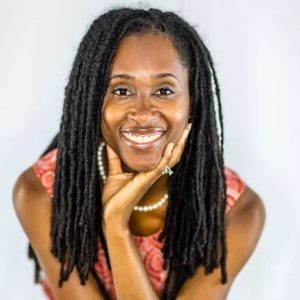 Nzinga Harrison, MD
Co-Founder & Chief Medical Officer
Eleanor Health
---
You'll be glad you saw Nzinga because…
She's an addiction psychiatrist with intriguing ideas about how to address addiction and inequity—problems whose sources and solutions may be more similar than you think.

Nzinga's convinced that combining data-driven insight and value-based payment—while centering humanity, equity and compassion—saves lives, saves money and helps people with addictions recover and live fully.

Her most revolutionary notion may be this: Reducing health inequities means treating racism as an addiction—a tractable problem amenable to evidence-based intervention.
---
Dr. Nzinga Harrison is co-founder and Chief Medical Officer of Eleanor Health, a provider of evidence-based, whole-person care to people and groups that have substance use disorder and mental health needs.
Dr. Harrison has spent her career helping people from marginalized communities who have substance use or other psychiatric disorders. As a physician executive, she served in Senior Vice President and Chief Medical Officer roles committed to improving systems-based delivery of psychiatric and substance abuse care. She is a staunch advocate of stigma reduction and a creator of whole-person care that helps individuals and communities recover from and prevent substance use disorders.
She is a double-board certified physician with specialties in General Adult Psychiatry and Addiction Medicine. She completed her undergraduate studies at Howard University, her medical education at the University of Pennsylvania and her residency training at Emory University.