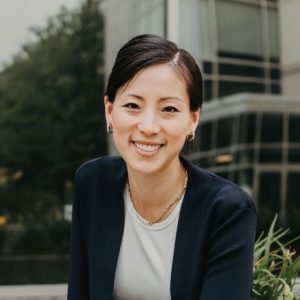 Liz Kwo, MD, MBA, MPH
Chief Medical Officer
Everly Health
---
You'll be glad you saw Liz because…
She embodies what's possible in health tech—and what's at stake.

You'll be inspired by her mix of professional success and poignant personal history. A founder and leader of firms that are probably in your 401k, Liz's enviable entrepreneurial wins are punctuated by personal loss and a haunting familiarity with what happens when doctors "miss something."

Liz is a builder of digital businesses who expresses the "why" and "how" of using technology to improve care as astutely as any physician-entrepreneur working in quality today.

She has accomplished a lot, and she isn't done yet. She comes to Quality Talks ready to share important lessons.
---
Dr. Liz Kwo has over 20 years of experience in digital health and medical management, with a focus on using data analytics to transform health and wellness. Currently, she is Chief Medical Officer at Everly Health, a diagnostic company that provides a seamless, virtual care platform. Most recently, Dr. Kwo served as Deputy Chief Clinical Officer for Elevance, working to modernize disease management and care delivery for 43 million Americans.
Prior to Elevance, Dr. Kwo started several venture backed companies as CEO and co-founder of InfiniteMD and President and co-founder of New Pathway Education and Technology.
Dr. Kwo is on the Board of Directors of Asensus Surgical and BlueWind Medical. She is a practicing physician at Cambridge Health Alliance Hospital and a faculty lecturer at Harvard Medical School, and is board certified in Preventive Care and Occupational Medicine. She earned a BA in Human Biology from Stanford University, an MD from Harvard Medical School, an MBA from Harvard Business School and an MPH from Harvard T.H. Chan School of Public Health.