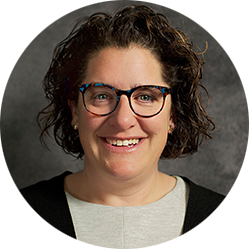 Eliza "Pippa" Shulman, DO, MPH
Chief Medical Officer
Medically Home
---
You'll be glad you saw Pippa because…
Delivering safe and effective care to people at home is one of the most transformative trends in quality, and Pippa's one of the most dynamic innovators in this growing field.

She is upending facility-based care by moving it to where patients want to be—starting with hospital care, then progressing to other aspects of the care delivery system.

To hear Pippa is to come away convinced that the path to better care for everyone is through the home.
---
Eliza "Pippa" Shulman, DO MPH, is Chief Medical Officer at Medically Home, the world's first virtual hospital. Medically Home is a tech-enabled clinical enterprise that provides the capability to shift medical care from hospitals to patients' homes. Dr. Shulman is also Medical Director at Atrius Health's Center for Healthcare Innovation, where she is charged with identifying, testing and implementing novel care delivery solutions as part of the largest independent multi-specialty medical group in the Northeast.
Dr. Shulman was previously Chief of Geriatrics and Palliative Care at Harvard Vanguard Medical Associates, where she led improvement efforts in home care, extended-care facilities and outpatient geriatrics and palliative care services. She also led initiatives to redesign care for frail elderly patients, including implementation of an organization-wide strategy for improving advance care planning.
Dr. Shulman is board certified in Family Medicine, Preventive Medicine and Hospice and Palliative Medicine. She is a graduate of the combined New Hampshire Dartmouth Family Medicine Residency and the Dartmouth Hitchcock Leadership Preventive Medicine Residency, which is focused on developing physicians to lead change and improve systems of care.