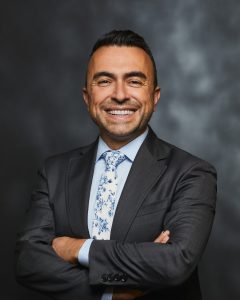 Bechara Choucair, MD
Senior Vice President & Chief Health Officer
Kaiser Permanente
---
You'll be glad you saw Bechara because...
The link between health care and public health is vital, fraught and frayed.

Pandemic, partisanship and inequity have taken their toll, eroding trust and effectiveness.

How do we regroup and ensure everyone has better health care and better health?

No one is more ready to tackle these topics than Bechara. He's a former big-city health commissioner, White House pandemic advisor and creator of the nation's largest social health network, now on his second tour of duty as the top population health doctor at one of America's leading health plans.

---
Dr. Bechara Choucair is the senior vice president and chief health officer for Kaiser Permanente, one of America's leading integrated health systems with more than 12.5 million members. His work includes the creation of the nation's largest social health network to meet the housing, food and transportation needs of Kaiser Permanente's members. He also manages the organization's community health portfolio, including $3.4 billion dedicated to supporting medical financial assistance and charitable care as well as grants and community health initiatives.
From January through November 2021, Dr. Choucair served as the White House national COVID-19 vaccinations coordinator. In that role he focused on coordinating the timely, safe, and equitable administration of COVID-19 vaccinations for the U.S. population. During his tenure, more than 450 million doses of the vaccine were administered nationwide. He returned to Kaiser Permanente in December 2021. Dr. Choucair served as Chicago's Public Health Commissioner from 2009 to 2014.
Among other accolades, Dr. Choucair has been named by Modern Healthcare as one of the 50 Most Influential Health Executives in the U.S., one of the Most Influential People in Healthcare, and as one of the Top 25 Innovators in Healthcare. A family physician by training, he completed his Family Practice Residency at Baylor College of Medicine in Houston, Texas. He holds an MD from the American University of Beirut and a master's degree in health care management from the University of Texas at Dallas.