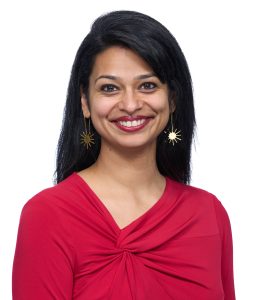 Anita Ravi, MD, MPH, MSHP, FAAFP
CEO & Co-Founder
PurpLE Health Foundation
---
You'll be glad you saw Anita because…
She looks at health equity in ways few leaders dare: Through the eyes of the incarcerated, survivors of domestic abuse and of human trafficking.

What subtle signs of abuse that are overlooked in conventional medical exams make a big difference in caring for vulnerable groups? How do health systems build trust with people whose closest relatives beat them? What does continuity of care look like for people who have been trafficked?

Anita teaches her fellow physicians to navigate these and other challenges with a warmth and optimism that compels and inspires. You'll never think about social determinants of health and care for marginalized communities in the same way again.
---
Anita Ravi, MD, MPH, MSHP, FAAFP, is a board-certified family medicine physician who specializes in the health of gender-based violence survivors. She is the CEO and co-founder of PurpLE Health Foundation, a non-profit organization that addresses the comprehensive health of survivors of gender-based violence through a novel model of clinical care, research, and education. Her portfolio spans peer-reviewed research publications, policy development, and conducting trainings centered around integrating trauma-informed care principles in healthcare delivery.  Her leadership roles have most recently included serving as Chair of the American Medical Association's Women Physicians Section Governing Council, Co-Chair of the National Quality Forum's Prevention and Population Health Standing Committee, and as a Steering Committee Member for the Office on Trafficking in Persons Advancing Equity Initiative. Her unique approach to healthcare delivery and advocacy has garnered national recognition, including being selected as a 2021 "40 Under 40" Leader in Minority Health by the National Minority Quality Forum, selection in the 2022 Presidential Leadership Scholars Program, the 2023 Rockafeller Foundation's Bellagio Center Residency, and coverage in US News and World Report, Politico, and other key media outlets.  Dr. Ravi regularly writes, draws, and speaks at events across the country about how the healthcare system must radically change to meet the needs of survivors.
Dr. Ravi is a graduate of Washington University in St. Louis, received her Medical Degree from the University of Michigan School of Medicine, her Masters in Public Health from Yale University, her Masters in Health Policy research from the University of Pennsylvania School of Medicine, and is a graduate of the Robert Wood Johnson Foundation/Veterans Affairs Clinical Scholars Fellowship Program.