Quality Talks: 2016 Attendee Feedback
Still thinking about whether you should register for Quality Talks 2017? Let the feedback from 2016 attendees help you.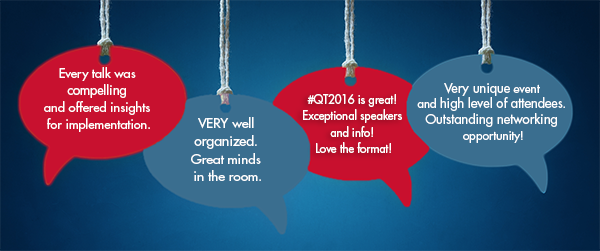 "Quality Talks is great! Exceptional speakers and info! Love the format!"
"Very unique event and high level of attendees. Outstanding networking opportunity!"
"VERY well organized. Great minds in the room."
"Every talk was compelling and offered insights for implementation."
"I found it very good way to cover a lot of topics and go deeper with speaker hubs."
"Speakers were engaging and great networking opportunities.
The was a lot of electricity in the air."
"I think the event was very well put together. PHENOMENAL speakers!! Really inspired me!!"
"This was an outstanding event. I would recommend it to all of my peers."
"The best event of 2016, already on my calendar for next year!"
"A very worthwhile use of my day, inspirational for sure."
Join us on October 16, 2017. Use code SAYYES17 to get $25 off when you attend in person.* Register today before it's sold out!
*Offer valid until May 22, 11:59PM ET and does not apply to previous registration.
Need more incentive? Check out these clips—and reactions—from last year's event:
Quality Talks: Hubs of Activity Enhance Talks